Please note: Due to the current COVID-19 measures, TOP Winter Week will take place online this year .
TOP Winter Week 2022 takes place from Tuesday, January 25 to Thursday, January 27. This is the week before the start of your semester. In this week you will get to know your fellow students, the Netherlands, the city of Tilburg and life as a student. TOP Winter Week is the best start of your time as a student in Tilburg!
TOP Winter Week is the introduction week for all new students who start their studies at Tilburg University in February. The registration fee is €15, – and for this price you will get access to all online activities that are organized during the week.
We will organize TOP Winter Week completely in line with the measures that apply at the time. Should there be any changes in measures, it could be that our program changes. Please check the website of the Dutch government to see the current COVID-19 measures.
---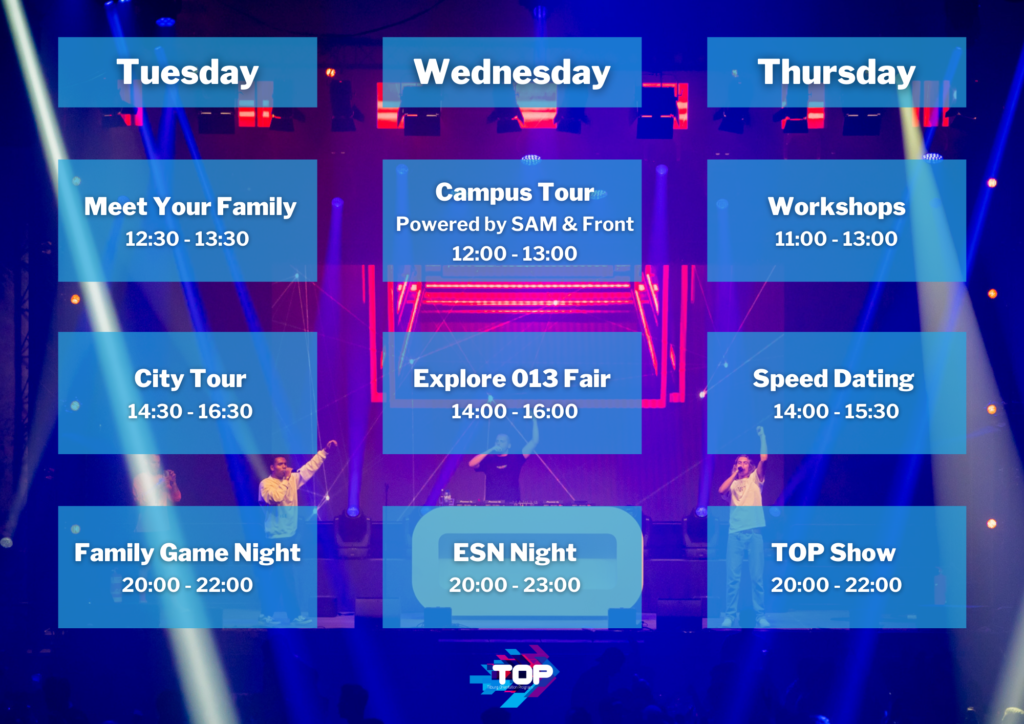 Tuesday
Meet Your family
TOP Winter Week starts on Tuesday with Meet Your Family. During this activity you will get to know your group members and mentors. Your mentors have prepared a presentation in which they tell you fun facts about themselves and during which you can ask questions. This activity is the perfect way to get to know everyone and to find out more about your group members.
City Tour
During the city tour, you can explore the city of Tilburg via the TOP Week App. We will show you some of Tilburg's greatest hotspots and you will learn fun facts about the city of Tilburg. We will give you some information about each hotspot and by answering a question you can earn points and go to the next location. The person that earns the most points or solves all the questions the fastest, will earn a nice price.
Online Family Game Night
In the evening you can get to know your group even better during various fun games. Find out if one of your group members has ever missed a flight, been on a blind date or gone skydiving during never have I ever and find out who is most competitive during Pictionary and Thirty Seconds.
Wednesday
Campus Tour
Powered by SAM & Front
Get to know the Tilburg University campus with student party SAM and student party Front! They will give you an online tour around the Tilburg University campus and tell you all about all the buildings, study areas, facilities and other hotspots.
Explore 013 Fair
Are you interested in joining one of the many student, study, or sports associations in Tilburg? During the Explore 013 Fair, we will introduce you to some of the associations and you can find out which one suits you best. You can learn more about each association in various rounds. During each round you can choose which association you want to get to know and they will give you some information and you will have the opportunity to ask questions.
ESN Night
On Wednesday night you can get to know international student association ESN Tilburg. They will introduce you to their association and will host an activity for you to do with your group.
Thursday
Workshops
Do you want to know more about nutrition, branding and networking, or more. Thursday morning there will be various workshops. Parties such as Integrand Tilburg, AIESEC Tilburg, the Tilburg University Sports Center and ABN AMRO will organize these workshops. Check the TOP Week App to see all topics.
Speed Dating
On Thursday afternoon you get the opportunity to get to know other participants of TOP Winter Week. During the speed dating activity you need to join a zoom session and will be placed in breakout rooms with other TOP Winter Week participants. This way you will meet even more fellow students and you will be able to talk about your experiences so far. During this activity we will also open the TOP Tinder in the TOP Week App. Via this function you can meet participants with the same interests and hobbies as you.
TOP Show
We end the week with the TOP Show. This will be an interactive live show that you can watch via the TOP Week App. During the TOP Show we will introduce you to several Dutch holidays in a fun way and you can earn points by doing challenges and answering questions. There will be lots of music, fun and interaction so make sure you don't miss this spectacular ending of the week.
Questions?
Send us a message.